The two exercises aim to encourage collective reflection and analysis on the role of racism, colonialism and discrimination in institutions of higher education. Drawing from decolonial feminist perspectives, the aim is to understand what mechanisms contribute to the perpetuation of Western colonial power in specific socio-historical contexts. Collectively constructing theoretical and political positions allows us to understand how certain types of knowledge or ways of knowing are legitimized, as well as the ways in which dominant teaching practices reproduce visible and invisible hierarchies.
These exercises also address tensions over the importance of Higher Education Institutions (HEIs) in the transformation of unequal societies. Feminist decolonial perspectives can contribute to the deconstruction of meanings and practices that reproduce oppression, as well as to the creation of knowledge and pedagogies capable of creating horizons of emancipation and social change. However, these efforts must seriously address the question of how universities, which are historical sites of colonial knowledge production, can engage with the counter-hegemonic knowledge proposed from critical strands.
Participants will be divided into two groups. Each group will develop one of the exercises. A group discussion will be held to reflect conjointly over the different elements that each group reflected upon. The conclusions of the debates will be compiled in a common access space as well as the derived proposals, counter-narratives and collages.
Activity A
Worksheets on critical teaching
It consists of a set of worksheets with guiding questions to critically reflect on teaching and learning practices.
Five areas of reflection and proposal generation are offered:
teaching programs
learning spaces
pedagogical practices and interactions
relationship with the local context
forms of evaluation.
Worksheets are filled out individually or in teams and a group discussion takes place in the video conference and Miro space.
To provide participants with tools to reflect on the ethnocentric nature of the teaching practice.
To promote the use of non-hegemonic knowledge and methodologies in the didactic task.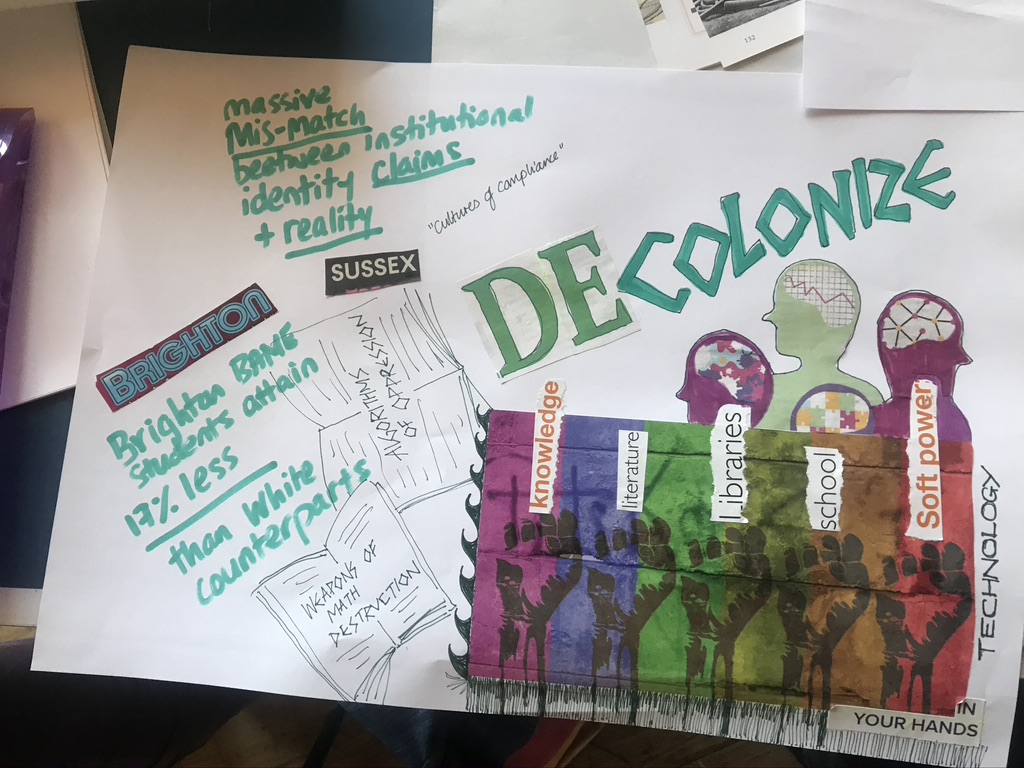 Step 1
5 minutes
Introduction of the activity by explaining that the objective is to analyze the ethnocentric elements of one's own teaching and learning practice through 5 areas of reflection: teaching programs, learning spaces, pedagogical practices and interactions, relationship with the local context and forms of evaluation. The idea is also to subsequently generate proposals applicable to the subject analyzed.
Step 2
15 minutes
Each member answers individually or in group to the questions posed in the worksheets.
Step 3
25 minutes
The answers are shared through the virtual whiteboard in Miro, dedicating approximately 5 minutes for each of the areas worked on. The main conclusions of each area are also written down in order to summarize the contributions.
Step 4
10 minutes
A Brainstorming is conducted with the participants in order to generate proposals to transform different aspects of the analyzed subject. The ideas are shared on the whiteboard.
Step 5
5 minutes
The activity is closed with a set of proposals for the implementation of the ideas generated.
Required reading (concepts/tools)
Complementary readings and videos
Activity B
The dangers of the Single story
This exercise relates to different authors (Chimamanda Ngozi Adichie, Saidiya Hartman and the Electric Marronage collective) who address the relationship between the production of knowledge and teaching practice with the reproduction of domination. They also discuss epistemic alternatives and practices that can nest anti-racist struggles. Through different questions, participants are invited to debate these issues and create their own counter-narratives.
Access to the authors' resources and a videoconference space are shared for the group discussions proposed for each of them. To show the participants' counter-narrative, a virtual whiteboard is provided in Miro with permission to upload it afterwards.
To foster reflection on how dominant constructions of knowledge limit our perspectives and imaginaries, while perpetuating racialised structures of oppression.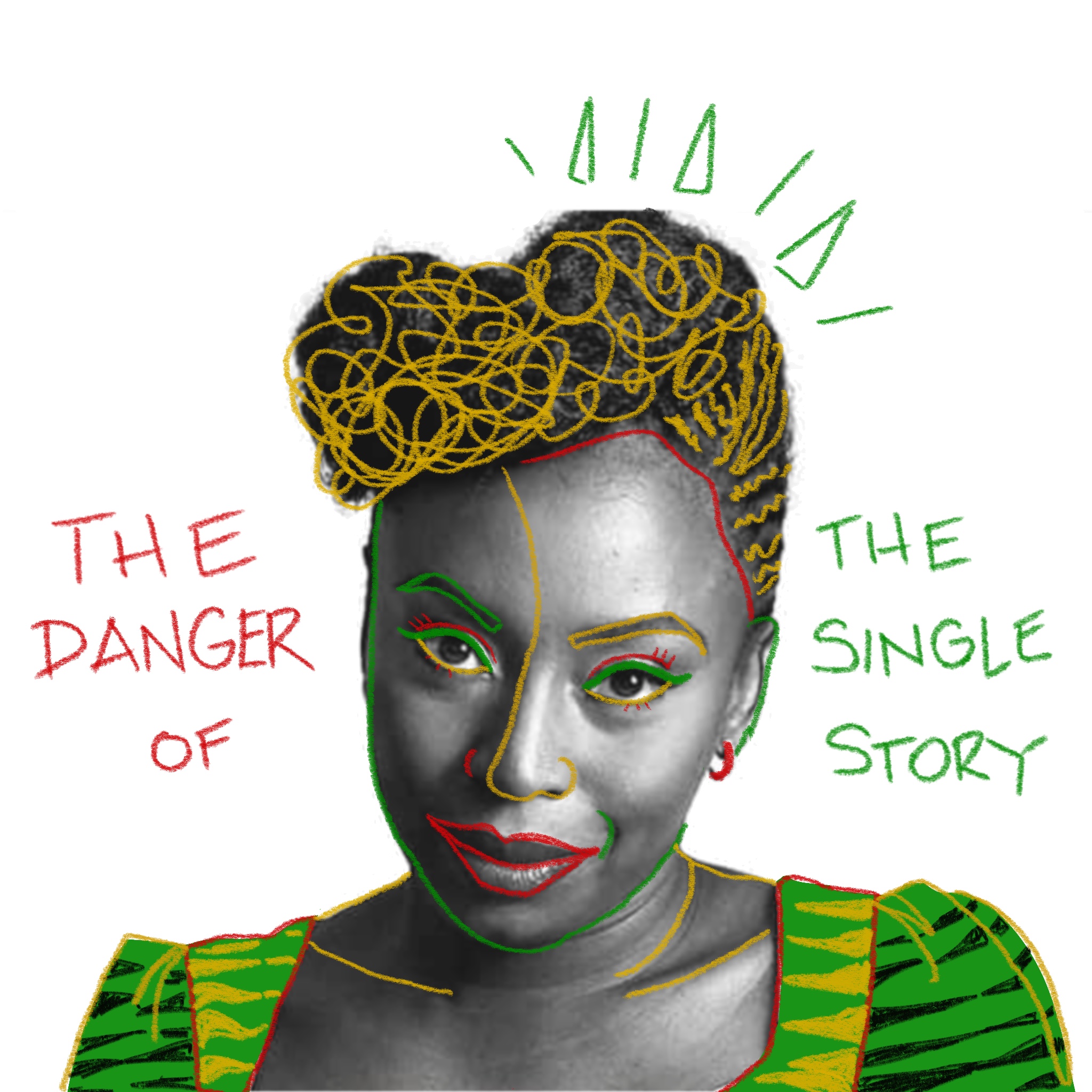 Step 1
5 minutes
Introduction of the activity by explaining that the objective is to reflect on dominant forms of knowledge construction and the analytical and propositive form that the activity will have.
Step 2
15 minutes
Participants are asked to answer the following questions in little groups and to summarize their discussion in the Miro whiteboard.
Chimamanda Ngozi Adichie refers to "single stories" that informed her imagination, as well as the "single stories" others had of her. Can you list them?
In your own experience, what are the "single stories" you grew up with and when did you realize their complexity?
How has this realization changed your relationship with yourself, the people around you, and the world you live in?
In her talk, Chimamanda Ngozi Adichie says that "it is impossible to talk about "the single story" without talking about power." What power relations is she talking about?
Further on, she mentions that "stories have been used to dispossess, but they can also be used to empower; stories can break people's dignity, but they can also repair that broken dignity." How, in her view, can alternative stories be told? In your opinion, could these "single stories" be dismantled simply by adding and including new elements, or would they require a radical change in your understanding of the situation?
Reflecting on the topic participants you are teaching or studying, which are the "single stories" told within these topics?
Step 3
10 minutes
The answers are pooled in an overall group video call and the main conclusions are also written down in the Miro whiteboard.
Step 4
20 minutes
Creating counter-narratives. In a small group, and via video call and whiteboard in Miro, participants will elaborate a brochure/magazine/collage (with Canva or in Miro) to create a counter-narrative to their curriculum and express their lived experience in higher education. The following questions can guide the development:
Syllabus: how would you imagine your syllabus differently? What would you eliminate and what would you "glue" together? How would you reframe key learning outcomes, study materials, and class activities?
Lived experiences: what images/pictures help you express your own experience in the classroom and in your course of study? What alternative images would you imagine?
Add anything that has emerged from your discussions that you found relevant.
Step 5
10 minutes
Each group briefly explains the collage made in an overall group video call and the conclusions are also written down in the Miro whiteboard.
Required reading (concepts/tools)
Ahmed, S. (2012). On being included: Racism and diversity in institutional life. Duke University Press.
Bhambra, G. K., Gebrial, D., & Nişancıoğlu, K. (2019). Decolonising the university. Pluto Press.
Cacopardo, Ana (2018). Historias debidas VIII: Silvia Rivera Cusicanqui. Canal Encuentro. Argentina.
Lugones, M. (2010) "Toward a Decolonial Feminism." Hypatia 25: 742-759. https://doi.org/10.1111/ j.1527-2001.2010.01137