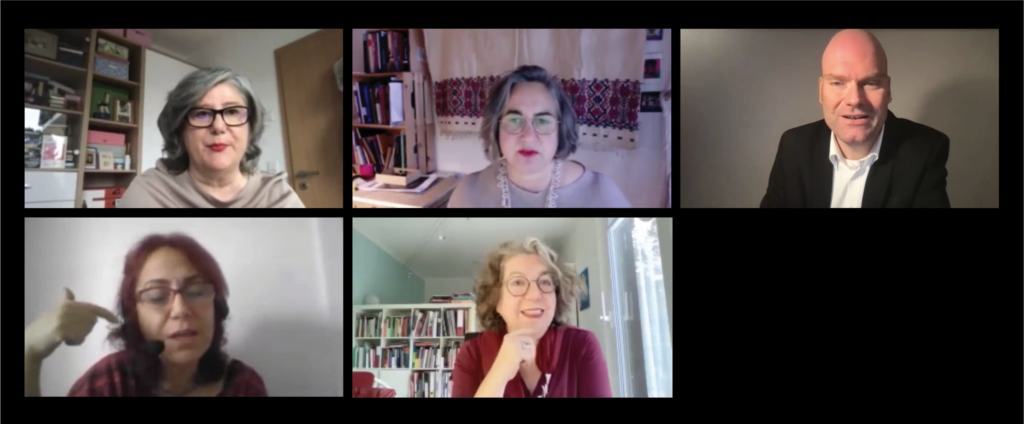 The conference Teaching in Exile: Transnational Experiences in the Digital Age (18-19 November 2021 online) consisted of three formats: Taking Action in Teaching, Showing Off Science Digital Fair, and Infrastructures of Inclusion.
Prof. Encarnación Gutiérrez Rodríguez (Justus-Liebig-University Giessen, PAR Giessen team) was discussant at the panel on Infrastructures of Inclusion (together with Wendy Shaw, Yasemin Karakaşoğlu, and Betül Yarar). Discussions evolved around everyday racism in German universities directed at international and Migra*BPOC scholars and the intersection with gender/sexism, but also about the lack of epistemic authority and credibility granted to these scholars, peripheralizing and diminishing their knowledge and expertise. Another key topic that was discussed, was the lack of awareness of white (male) German scholars regarding the situatedness of their own knowledge, as well as their lack to recognize that their expectations towards the academy are ethnocentric. On the other side, Migra*BPOC scholars often ended up doing comparatively more work and taking on more responsibility, leading to burn out and fatigue. These dynamics often translated into increased precarity of Migra*BPOC scholars in Germany, despite their equal qualification. The panel concluded requesting a structural change within German HEI, as well as the need for diminishing ethnocentric perspectives and behavior at German HEI, which is a responsibility first and foremost of administration and established scholars.
María Cárdenas (Justus-Liebig-University Giessen, PAR Giessen team) presented the BRIDGES toolkit, the BRIDGES course, and the Virtual Lab during the Showing Off Science – Digital fair. After an introduction into the BRIDGES Erasmus+ Project and its members, she introduced into the situated and participatory process that had led to the development of the tools and guided the participants through the Virtual Lab, showing the different tools, how to access the course content, and the external resources of the Virtual Lab. Main points that were raised by the participants evolved around the questions: Can we use the tools as well for sensitizing administrative staff at the university? How can we use our roles strategically, to bring about change at the university? Overall, the participants concluded that the tools offered by the toolkit were powerful in the sense that they could both strengthen students and scholars affected by exclusion, as well as to sensitize privileged scholars and students about how they reproduce exclusion mechanisms and how they can practice allyship.
The conference organized by Academics in Solidarity aims at bringing together students and scholars to enrich the solution-finding process and discussions on teaching and especially welcomes contributions by refugees and at-risk scholars and students. Academics in Solidarity is a peer-mentoring program that connects displaced and at-risk researchers with established scholars in Germany, Lebanon and Jordan. It seeks to create a network of solidarity, strengthen the value of cross-cultural research cooperation and open up new perspectives within the academic environment of the host country.
More information about the conference program and the convenor can be found here.