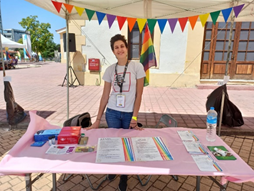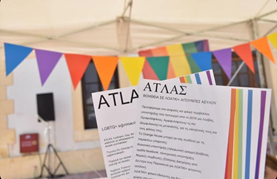 This July 2021, Zaatar NGO took part, once again, in Athens' Pride, introducing the Atlas program to the public on its colorful booth. Since 2016, Zaatar NGO, through its initiative ATLAS (Aid To LGBTQ+ Asylum Seekers), has been building a program designed to best support LGBTI+ asylum-seekers and refugees with their specific needs. It provides a variety of services such as:
Operating a Helpline for LGBTQ+ refugees worldwide in Farsi, Arabic, French and English.
Providing a safe space at The Orange House for people of all sexual orientations and genders.
Teaching the broader refugee community as well as social and humanitarian actors working on the ground about LGBTQ+ rights.
Ensuring that all volunteers are LGBTQ+ friendly.
Since the end of 2020, in times of lockdown and social distancing, where LGBTQ+ refugee and migrant people have been particularly vulnerable, Zaatar NGO launched two peer-support discussion groups which started online but now are held in a hybrid format to meet the needs of a greater number of people.