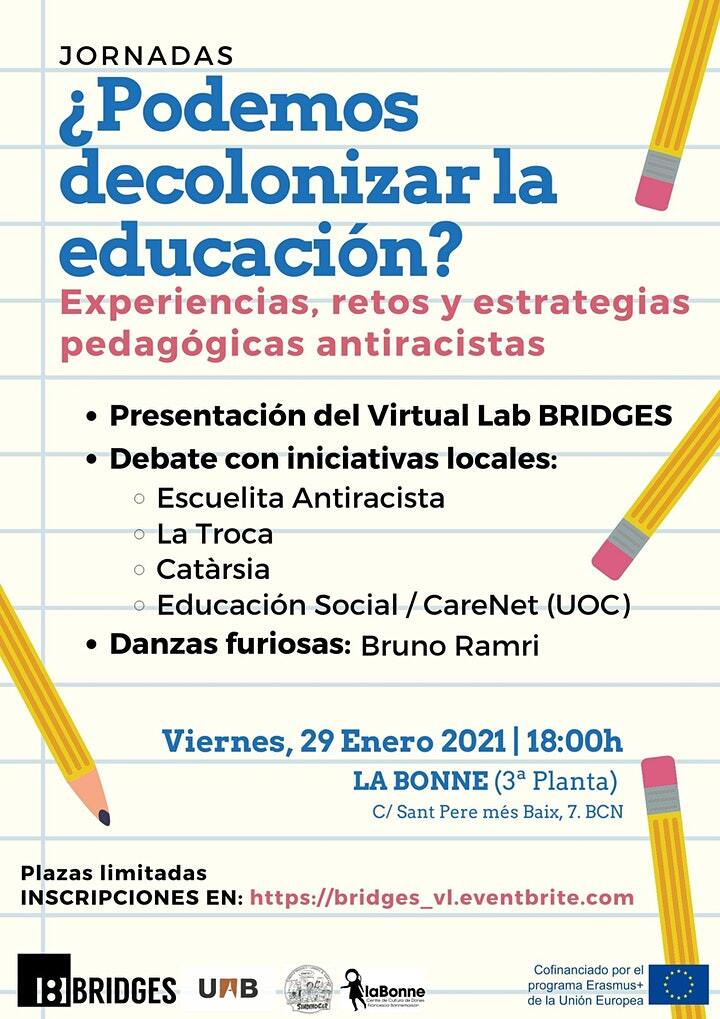 As we already announced in the introduction of our most recent (Q4 2020) Newsletter, the BRIDGES Virtual Lab will be publicly presented by the end of January in the city of Barcelona. The next public presentations in Giessen, Athens and Brighton will take place later, in the next months, as soon as the lockdowns and restrictions will allow it.
These presentations, through what Erasmus+ call "Multiplier Events", have the objective of reaching the maximum number of people and local initiatives that are linked to the project topics and are likely to become future users of its products.
Thus, although these events will be freely accessible to anyone, those people and initiatives that work in higher education, administrations and technicians that regulate the educational field, or activist groups and projects that fight against discrimination and racism in education are especially encouraged to participate. In the following poster, you can see the programme and practical details of the Multiplier Event in Barcelona (Friday, January 29th, at 18h in La Bonne). Soon, the dates of the next events in the rest of the project's cities will be announced. Come and invite others to come! But don't forget to register to attend the event. All Covid security measures will be followed.
Barcelona: 01/29/2021, at 6pm, at La Bonne. Registrations: https://bridges_vl.eventbrite.com