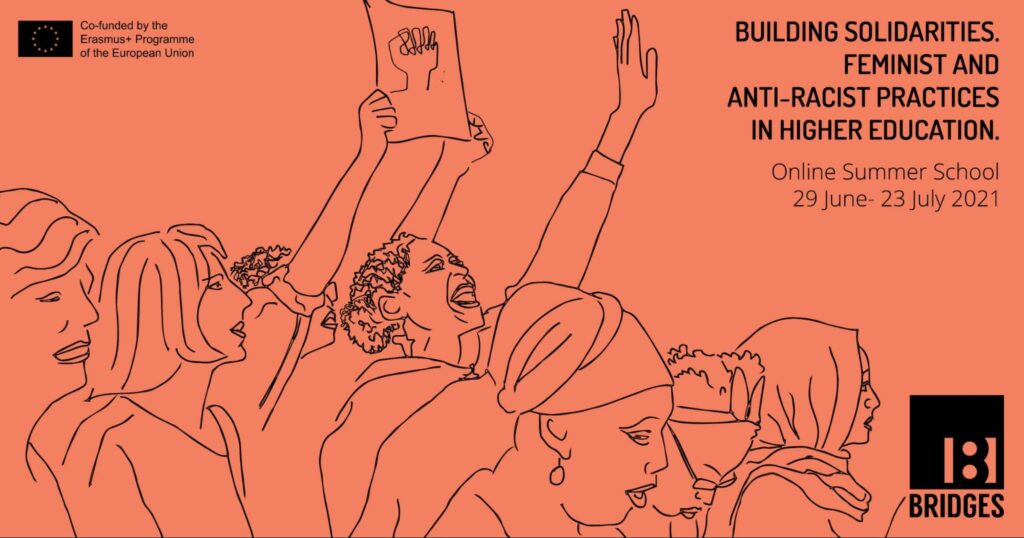 A few days ago, on June 29th, the BRIDGES Online Summer School ("Building solidarities. Feminist and anti-racist practices in Higher Education") started. Until July 15th, we will be intensively working on four different blocks of activities:
Block A, dedicated to "Racism and Other forms of Exclusions in Higher Education: A diagnosis of public policies, daily life in Universities and anti-racist struggles"
Block B, dedicated to "Theories as Tools: Feminist anti-racist perspectives and concepts"
Block C, dedicated to "Decolonizing Higher Education: Radical pedagogies and epistemologies"
Transversal block, whose aim is to propose knowledge building through embodied personal and collective experiences, using innovative formats of participation, including a workshop on collective care and solidarity with struggles against racism in HEI, an antiracist feminist city tour, and a final collective evaluation of the course.
About 30 participants from different HE spaces in Europe will be gathered to learn, debate and create collectively different feminist and anti-racist predagogical strategies for HE. This Summer School will help BRIDGES to test the Course proposal that will be launched after the summer. This BRIDGES Course will be publicly accessible and downloadable through the BRIDGES Virtual Lab. If you would like to know more about the next Online Summer School and its blocks' content, we invite you to consult the Course section.